Kia Stinger: Light bulb position (Side) / Headlamp (LED type) replacement (Headlamp Type B)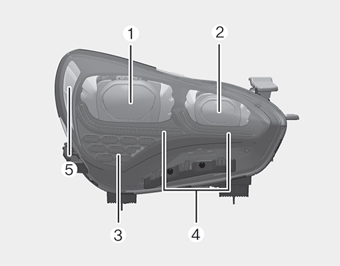 ■ Head lamp - Type B
If the Low/High beam lamp (1, 2), Front turn signal lamp (3), Day time running lamp/Position lamp (4), and/or Side marker (5) do not operate, have the vehicle checked by an authorized Kia dealer.
The LED lamps cannot be replaced as a single component because they are part of an integrated unit. The LED lamps have to be replaced with the unit.
A skilled technician should check or repair the head lamp (LED), for it may damage related parts of the vehicle.