Kia Stinger: Air Conditioning System / Ambient Temperature Sensor
Description and operation
Located in front of the condenser, the ambient temperature sensor detects the ambient air temperature. It is a negative type thermistor; resistance will increase with lower temperature, and decrease with higher temperature.
The sensor output will be used for discharging temperature control, temperature regulation door control, blower motor level control, mix mode control and in-car humidity control.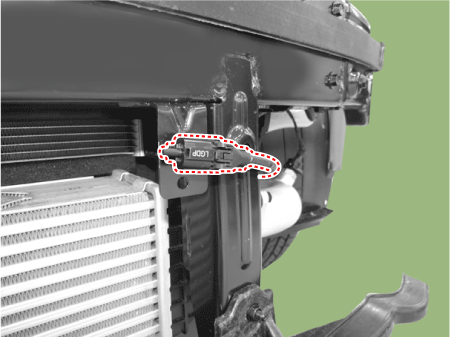 If the ambient temperature is below 2.0°C (35.6°F), the A/C compressor will stop.
The compressor will operate manually.
Repair procedures
| | |
| --- | --- |
| 1. | Turn the ignition switch OFF. |
2.

Remove the front bumper assembly.

(Refer to Body - "Front Bumper Assembly")
| | |
| --- | --- |
| 3. | Disconnect ambient temperature sensor. |
4.

Check the resistance of the ambient temperature sensor between terminals 1 and 2 and see if it changes with the ambient temperature.

Specification

| | |
| --- | --- |
| Ambient temperature [°C(°F)] | Resistance between terminals 1 and 2 (kΩ) |
| -10(14) | 158.18 |
| 0 (32) | 95.10 |
| 10 (50) | 58.80 |
| 20 (68) | 37.32 |



| | |
| --- | --- |
| 5. | If the measured resistance is not within specification, substitute with a known-good ambient temperature sensor and check for proper operation. |
| | |
| --- | --- |
| 6. | Replace the ambient temperature sensor if it is proved that there is a problem with the sensor. |
| | |
| --- | --- |
| 1. | Disconnect the negative (-) battery terminal. |
| | |
| --- | --- |
| 2. | Remove the engine room under cover (A). |
| | |
| --- | --- |
| 3. | Disconnect the connector (A) and then remove the ambient temperature sensor (B). |
| | |
| --- | --- |
| 4. | Install in the reverse order of removal. |