Kia Stinger: Smart key / Battery replacement
A battery should last for several years, but if the smart key is not working properly, try replacing the battery with a new one. If you are unsure how to use or replace the battery, contact an authorized Kia dealer.
IC WARNING
This device complies with Industry Canada licenceexempt RSS standard(s).
Operation is subject to the following two conditions: (1) this device may not cause interference, and (2) this device must accept any interference, including interference that may cause undesired operation of the device.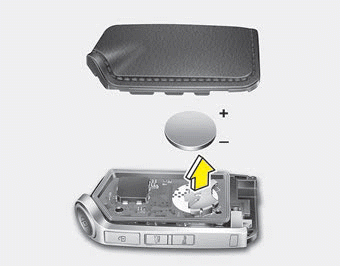 1. Pry open the smart key center cover using screw (-) driver.
2. Replace the battery with a new battery (CR2032). When replacing the battery, make sure the battery position is correct.
3. Install the battery in the reverse order of removal.