Kia Stinger: Mirrors / Compass function
The Compass can be turned ON and OFF and will remember the last state when the ignition is cycled. To turn the display feature ON/OFF:
1. Press and release the button to turn the display feature OFF.
2. Press and release the button again to turn the display back ON.
Additional options can be set with press and hold sequences of the button and are detailed below.
There is a difference between magnetic north and true north. The compass in the mirror can compensate for this difference when it knows the Magnetic Zone in which it is operating. This is set either by the dealer or by the user. The operating Zone Numbers for North America are shown in the figure on the following section.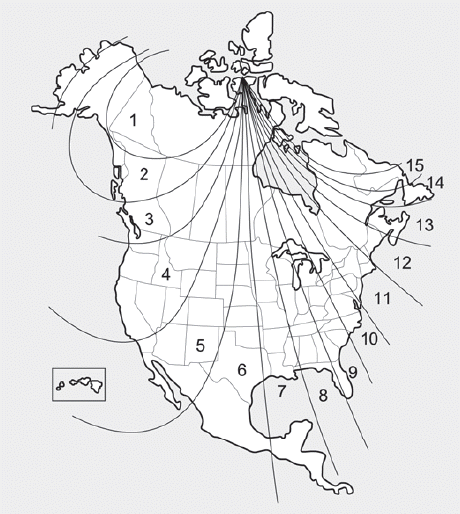 To adjust the Zone setting:
1. Determine the desired Zone Number based upon your current location on the Zone Map.
2. Press and hold the button for more than 3, but less than 6 seconds, the current Zone Number will appear on the display.
3. Pressing and holding the button again will cause the numbers to increment (Note: they will repeat …13, 14, 15, 1, 2, …). Releasing the button when the desired Zone Number appears on the display will set the new Zone.
4. Within about 5 seconds, the compass will start displaying a compass heading again.
There are some conditions that can cause changes to the vehicle magnets, such as installing a ski rack or a CB antenna. Body repair work on the vehicle can also cause changes to the vehicle's magnetic field. In these situations, the compass will need to be re-calibrated to quickly correct for these changes. To re-calibrate the compass:
1. Press and hold the button for more than 6 seconds. When the compass memory is cleared, a "C" will appear in the display.
2. To calibrate the compass, drive the vehicle in 2 complete circles at less than 8 km/h (5 mph).